About Mobile PC Medics
Welcome to Mobile PC Medics, the best mobile computer repair in the Thousand Oaks area.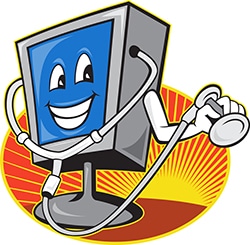 We understand how frustrating it is not being able to access your data, Internet, or email. Other problems, such as dealing with viruses, spyware, and troubleshooting software or hardware problems, can be difficult. Our company, based in Thousand Oaks, offers solutions for that and more for your home or business: setting up new computers, updating and troubleshooting hardware and software, email, Wi-Fi, backup and recovery, PC tune-ups, Windows installation and upgrades. Besides offering these services and more, we also give free estimates and, more importantly, the customer support that you deserve. We are here to aid you with any and all troubles you may have regarding your desktop or laptop computer.
We are A+ computer repair techs and Microsoft certified professionals.

Mobile PC Medics
Get a Quote