Tried And True Thousand Oaks Computer Repair
Keep Your Computers + Devices In Tip-Top Shape
For nearly 15 years, Mobile PC Medics has provided world-class computer repair services, network services, and IT solutions that are cost-effective for everyday users and businesses. If you need help repairing or replacing computer hardware (such as an LCD screen, battery, hard drive, etc.), installing or updating software, removing viruses, or setting user configurations for your system, Mobile PC Medics is your go-to source for restoring your devices to peak performance.
Our computer specialists are happy to serve the following areas with on-site, remote, and mobile support:
Thousand Oaks
Simi Valley
Westlake Village
Woodland Hills
And surrounding cities!
If you have any questions about your computer, laptop, or overall network, don't hesitate to call your local experts at Mobile PC Medics by dialing .
Schedule a consultation and receive a FREE diagnosis today!
Conejo Valley Computer Repair Services
We understand how inconvenient it is when your laptop, PC, or Mac device crashes or stops working properly. Similarly, if you encounter any issues with your network, you want it resolved as soon as possible. That's why we guarantee same-day service for all of our remote and mobile customers. When you choose Mobile PC Medics for computer repair, you're opting for the quickest recovery in Ventura County and no-sweat solutions.
Read on to learn more about our full-service approach and specialties in detail!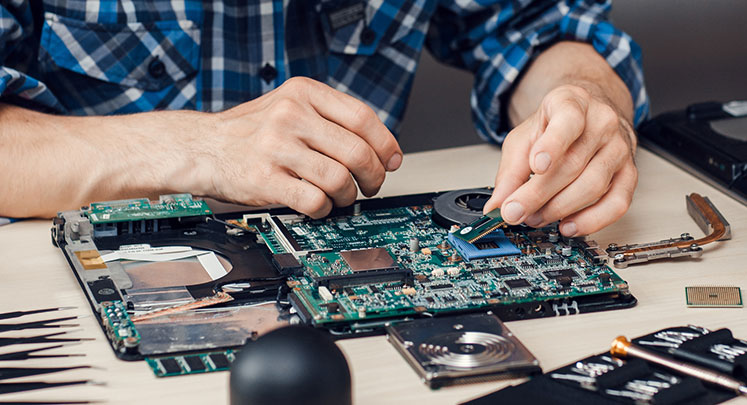 Computer Repair That Comes To You | Mobile Services
At Mobile PC Medics, we've built our reputation as one of the best computer repair companies in Ventura and Los Angeles County for offering a bevy of services and resources for any computer problem and user. On top of that, our computer specialists will show-up directly at your home or business the same day of your request for service, troubleshooting, and more.
We can help users with the following tasks–no matter the brand or model of your system or device!
Wireless Set-Up + Servicing
Hardware Installs + Repairs
System Tune-Ups
Software Installs + Repairs
Data Recovery
Printer Set-Up + Servicing
Windows Installs + Repairs
Virus + Spyware Removal
The Best In Business Computer Repair
As a local small business ourselves, we understand that neighboring ventures in Ventura County and Los Angeles have many expenses before counting Mac and/or PC support and maintenance. That's why we take special pride in helping businesses keep their computers, networks, and systems running at peak performance. Our solutions are not only cost-effective but efficient, so your local business can continue thriving efficiently. Within just an hour of a call from your business, our computer specialists will arrive onsite to assist you with any digital issue or task hampering you and your staff's workflow!
Laptop Repair
In addition to quality computer repair services, Mobile PC Medics also services and accommodates any brand of laptop or notebook in the Thousand Oaks area. Because laptops are more compact than traditional computers, their systems and parts or more intricate when it comes to repairing or replacing them. Our computer technicians have the experience, expertise, and know-how to fix your laptop and restore it to top-notch working order. We specialize in the following laptop solutions, including but not limited to:
LCD + Screen Replacement
Keyboard Replacement
Memory Upgrades
Hard Drive Replacement
DC Jack Repairs
At Mobile PC Medics, all of our laptop repairs and servicing start off with a complete system and hardware test. After these tests, we treat the diagnosis of your laptop's issue. While many laptop repairs can be completed same-day and onsite in your home or business, some may require replacement parts. While many bigger stores will take 2 to 3 weeks to order a replacement LCD screen or other laptop component, Mobile PC Medics can guarantee a faster turnaround at just 2 to 3 days!
Network Services
With so many options and products available on the market, it can be difficult to first decide and then set-up your internet. When you entrust Mobile PC Medics with the task of installing your wired or wireless network, we make sure it's set-up right from the very start. With a quality network system, your home or business will be able to print from anywhere onsite, utilize a DSL or broadband connection, share personal and business files, and more with modern ease and convenience. Whether your new or existing internet connection is comprised of a cable system, DSL, or dial-up modem connection, our professionals will ensure that your network fits your needs and requirements while exceeding your expectations.
Wired + Wireless
Broadband + DSL
New + Existing Systems
Remote Computer Repair
Has your computer or laptop suddenly encountered a virus? In addition to answering mobile requests and offering onsite repairs, Mobile PC Medics is full equipped to connect remotely to your device and fix any software or virus issues you may be experiencing. Our remote services encompass the following:
Virus removal software set-up
Troubleshooting really slow PCs, Macs, or laptops
Removing viruses, spyware, + malware
Email software set-up
Technical Support
At Mobile PC Medics, our computer repair professionals are also certified and experienced to offer extensive technical support for households and businesses alike. We provide the full gamut of remote and onsite technical support, including but not limited to: cutting unnecessary software, removing viruses, repairing and reinstalling operating systems, setting up computer networks, and repairing laptops.
Did you know we also specialize in computer backups, email support, and servicing small business networks? Our computer nerds and medics are savvy at setting up email accounts with applications such as Outlook, Thunderbird, and Windows Live Mail on various devices–including iPhones and iPads. We also specialize in providing high-quality backup programs to secure your data, ensuring it's never lost or unencrypted.
Viruses No More!
When your computer starts working more slowly or unfamiliar antivirus windows start popping up on your screen, the key culprit(s) can be a virus, rootkit virus, trojan horse virus, spyware, or malware. Most of these viruses are scams that appear as antivirus windows or ads that will claim to protect your computer and remove a virus–for a one-time cost or ongoing fee. Viruses can keep you from opening certain programs or programming any task on your computer or laptop–they are even capable of hijacking your browser and disabling your internet access. To completely remove viruses, spyware, and malware, you will need to consult an experienced and certified computer technician. More often than not, multiple antivirus programs will need to be installed to completely eradicate the spyware or malware. At Mobile PC Medics, we offer additional resources with virus removal, letting our customers know about the several free programs out there that can clean your computer laptop and consistently protect it from any future malicious activity.
Why Mobile PC Medics?
At Mobile PC Medics, we take computer repair seriously. When you're looking for quick and high-quality computer services that are more affordable for your household or business, you can count on us for speedy recoveries that last!
Why choose us? Here are just a few reasons why we're one of the best computer repair service providers in Thousand Oaks and Ventura County:
Cisco Certified
Microsoft Certified
Apple Certified
Established 15-Year Reputation
Same-Day Service Guarantee
Full-Service Computer Repair
IT + Network Consultants
Computer Repair FAQ
Before contacting a computer repair specialist, we understand you might have some preliminary questions. Mobile PC Medics is here to help! Here are a few common questions we receive from customers and callers.
» How long does a computer repair job usually take?
How long it takes to repair your computer or laptop highly depends on the issue at hand–anywhere from 30 minutes to a week. That's why we offer same-day service at Mobile PC Medics. We can guarantee a faster turnaround than any bigger computer store or chain!
» How long does it take for a start-up repair to be completed?
Start-up repairs are generally quick fixes that take less than an hour–anywhere from 15 to 45 minutes!
» How long will it take to scan and repair my hard drive?
Scanning and repairing your hard drive will take at least 2 hours, depending on the amount and scope of errors found!
» Mobile PC Medics Means Happy + Healthy Computers
Do you have any additional questions about our Thousand Oaks computer repair services? Feel free to contact our computer specialists directly with any queries, or to schedule your free diagnostic today. Call us at 818.307.6868.