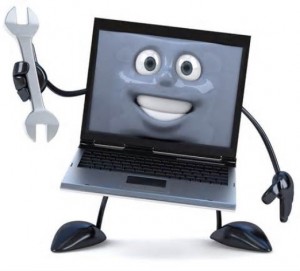 Consumers choose laptops for a variety of reasons. One of the most common reasons people cite for selecting a laptop as opposed to a PC is because of portability, or the ability to take the laptop along to virtually anywhere you might work, study or play. Like PCs, however, laptops are prone to damages, crashes and other hiccups that can throw a wrench in work efficiency or playtime, and, as such, any laptop owner should have a contact for fast, quality mobile laptop repair on speed dial.
Mobile computer repair for your laptop essentially means that highly trained repair professionals come to you, rather than you having to waste time and gas money traveling to them. These professionals understand that every minute your computer is down is one less minute of billable time, family bonding or enjoyable game-playing, and as such, they recognize that time is of the essence and work to fix any problems as quickly as possible.
Whether your laptop has experienced something catastrophic, like a complete crash, or is in need of any number of other services like virus removal, hard drive recovery, screen replacement or a tune-up, a visit from a technician trained in mobile laptop repair can have you back up and running in as little time as possible. Having trained technicians come to you not only reduces the amount of time and money you will spend traveling to get your laptop back in working order, but it also allows you to conduct other, non-computer related business while they work, such as filing or returning phone calls. Similarly, if your laptop is primarily used in the home as opposed to the workplace, trained technicians can come directly to your doorstep, eliminating the need for costly babysitters or piling the kids into the car simply to take your laptop in for what could well still end up being a timely repair process.
Regardless of whether your laptop is primarily used at work or at home, mobile laptop repair is a great resource for anyone who depends on their computer in their day-to-day life. Contact a trained professional today and get your laptop back up and running in no time.
If you are reading this on any other blog than Mobile PC Medics or via my RSS Feed, it is stolen content without credit.
You can find me on Twitter via @NerdHerderr
Come and visit our blog at https://mobile-pc-medics.com/computer-blog