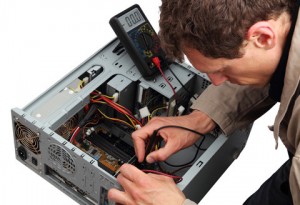 If your computer is not working well, life can suddenly become more complicated. By using a mobile computer repair service, you can avoid losing valuable time and money. A mobile service will come to your home or office and help you with repair emergencies right away. Whether you are facing a hard drive crash, a virus problem, or another difficulty, there are PC repair experts who are ready to come help you at a moment's notice.
Computer problems can be disruptive to your work routine. When you also have to pack up your computer, transport it to a repair facility, wait for diagnosis and repair, and bring it back home, the demands on your time can become quite serious. Mobile computer repair can fix that dilemma by bringing the repair staff to your own front doorstep. With one short call or email, you can have expert help at your door in a matter of minutes.
Many things can go wrong with a computer. Screens and keyboards can be highly vulnerable to damage from office hazards such as hot liquids and heavy objects. If you need a screen replacement, a keyboard replacement, or another hardware replacement, the task can be done quickly by a mobile repair specialist. A virus problem can also bring your home PC or your work computer to a sudden halt. These difficulties can be fixed by a visiting repair technician without the need for you to get into your car and transport the computer to another location.
If you need help with viruses, spyware, physical damage to your computer, hard drive issues, or other problems, you can save time and increase productivity by getting in touch with a mobile computer repair specialist. Network setup and regular tune-ups can also be done in your home or office, allowing you to go on with work and everyday life while you keep your computer running in top condition all year round. Remote maintenance is a great choice for busy professionals who want to live an efficient lifestyle.
If you are reading this on any other blog than Mobile PC Medics or via my RSS Feed, it is stolen content without credit.
You can find me on Twitter via @NerdHerderr
Come and visit our blog at https://mobile-pc-medics.com/computer-blog