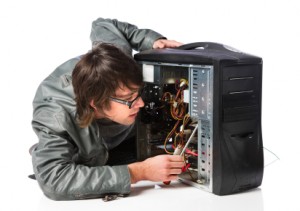 If you need computer repair in Los Angeles, there are a few factors to consider when looking for the right service for your issue or concern. Here are some of the most important things to look for in a good computer repair business.
Range of Services
When you have an issue with your computer or laptop, it is important to seek a repair service that has experience resolving a wide range of problems. You may assume, for example, that your computer is running slower than usual due to a virus when really it is because it is low on memory. Regardless of the cause, you will want a repair service that is capable of fixing a spectrum of problems instead of just one specific issue. A good service should be able to resolve not just viruses and malfunctioning hardware, but also network and installation concerns.
Home and Business Experience
If you live in Los Angeles and need help resolving an issue with your computer or laptop, you should look for specialists who have experience fixing computer problems in a variety of environments. Whether you are having a problem with your office computer or personal laptop, professionals in computer repair in Los Angeles should be able to address most concerns regardless of the setting. The experts should be familiar with home, school, and work-related issues in computers and networks.
Mobile or Remote
A mobile repair service can be a huge time and money saver if you live in Los Angeles. Mobile repair services are those that are willing and able to come to you to fix your computer or laptop. Remote specialists may be able to help you over the phone. For example, if your laptop crashes while you are at work, you may not be able to afford leaving the office and spending time in traffic to get it fixed. Mobile computer repair specialists can come directly to your office to resolve your issue, requiring little time and effort on your part. Some offer same day service and can come to you within an hour of your call.
These are just a few things to look for from professionals in computer repair in Los Angeles.
If you are reading this on any other blog than Mobile PC Medics or via my RSS Feed, it is stolen content without credit.
You can find me on Twitter via @NerdHerderr
Come and visit our blog at https://mobile-pc-medics.com/computer-blog