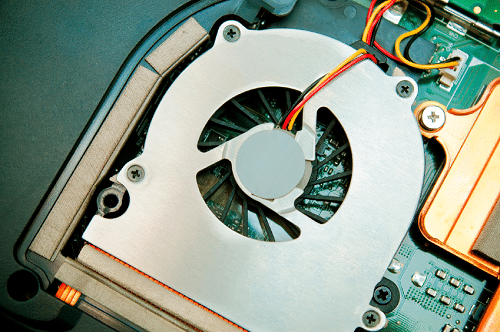 As with any piece of electronic, a laptop is susceptible to overheating if left on for a prolonged period. Luckily, overheating issues rarely occur these days as most new laptop models come with an internal fan that keeps the system within acceptable temperatures. However, the fan can diminish in performance with age. When this happens, you should contact a mobile laptop repair company to have the fan cleaned, fixed, or replaced.
A laptop that overheats is susceptible to a range of problems. In most cases, it may automatically shutdown to prevent further damage to the hardware. In some instances, the blue screen of death may appear. You may also lose data as a result of the shutdown.
While a fan can keep the laptop cool, it can gradually lose its ability to perform this vital task as it accumulates dust and debris. If you look at a typical house fan, you may notice that the blades and front and back cover are covered in dust. The same thing happens with a laptop fan. What you will need to do is remove the dust. This can be done by unscrewing the back of the laptop to expose the fan and removing the dust with a cloth and air duster. However, this task does require some degree of technical expertise. Everyday computer users are better off having the job done by contacting a mobile laptop repair center.
If you do not fully know what you are doing, you can risk damage by removing the back cover and exposing the internal circuitry. It is also possible that the fan is too worn and needs to be replaced altogether; this would definitely be a job for an IT professional.
A computer overheating is totally preventable, though the odds of it occurring increases if your fan is in dire need of a cleaning or replacing. Whichever the case may be, contact a mobile laptop repair service to have the issue resolved.
If you are reading this on any blog other than Mobile PC Medics
or via my RSS Feed, it is stolen content without credit.
You can find me on Twitter via @NerdHerderr
Come and visit our blog at http://Mobile-PC-Medics.com/category/computer-blog