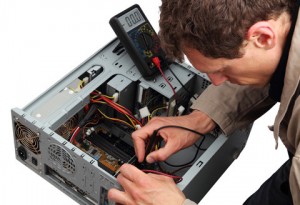 Computers are a big part of life these days. Even at home, computers are up and running for a big part of the day. Business calls, shopping for home improvement supplies, and browsing for dinner ideas are just a few of the ways that the personal computer is put to use. So when something goes wrong, leaving the computer at a shop for several days is just not an option. A better choice for any Woodland Hills computer repair is a mobile service.
These mobile repair experts have the equipment and skills handy to fix a whole range of problems. This includes the installation of any new hardware, the replacement of broken laptop screens, the removal of viruses and other harmful programming, and network configuration. Of course, the computer technician can also set up your WiFi, upgrade the memory on your computer, and clean up your hard drive. The mobile computer repair technician has the same tools at their disposal that the shops have and are willing to travel with them to complete repairs.
With all of the necessary equipment, the mobile Woodland Hills computer repair technician can travel to the home to complete repairs. This is a clear advantage for those who work from home and for busy households that rely on the computer for homework and other daily chores. Without the time and expense involved in traveling to a repair shop, the personal computer can be repaired conveniently at home. Plus, this option gives the owner of the computer the option to discuss the problem with the technician, gaining important advice about how to prevent the problem from happening again.
Some computer issues can be resolved over the phone. When a mobile computer repair company is on the line, remote scans can often be used to remove some viruses, correct issues like frozen screens, resolve many other issues. How many computer repair shops provide this service?
When your personal computer plays a big role in daily life at your home, the mobile services of a Woodland Hills computer repair company is the obvious choice.
If you are reading this on any other blog than Mobile PC Medics or via my RSS Feed, it is stolen content without credit.
You can find me on Twitter via @NerdHerderr
Come and visit our blog at https://mobile-pc-medics.com/computer-blog