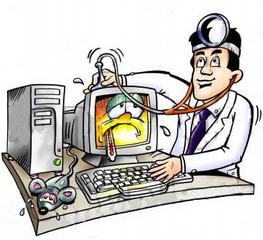 If your laptop or desktop crashes, the scenario can feel like a bad dream. You probably have some of your most important items stored on your hard drive, such as tax records, legal documents, resumes, correspondence and photographs. Most individuals and businesses rely heavily on their computers each and every day. When trouble occurs, they need help and fast. Luckily, there are IT wizards who can perform computer repair in a rapid manner.
One way to streamline the troubleshooting process of a computer-in-crisis is by having the technical support person come to you. Packing up your PC can be inconvenient, to say the least. If you place a call and a mobile technician comes to your house or place of business, it can greatly simplify your life. Another easy and quick fix-it technique is to have the computer repair company tap into your systems remotely. Many tech snafus can be remedied by remote control.
Some of the common issues that strike computers include problems caused by viruses, malware and spyware. It takes a good IT specialist to remove these ills because they are complex and always changing. Users also need help clearing storage space in their computers when the operations become very slow. Occasionally, connectivity issues arise and you cannot connect to the internet network. If your power supply goes dead or your hard drive is making strange sounds, it is time to call in the pros.
If your systems go kaput, don't have a heart attack. With a calm head, proceed with a calculated plan of action. First, place a call to a computer repair professional who makes house calls. Next, take a deep breath and wait for the doorbell to ring. In the meantime, you can work to calm yourself as well as your employees if it's a company-wide crash. This might be the perfect time to take an away-from-your-desk lunch break, a walk around the block or clean out your desk. With rapid-response IT service, it won't be long before you are back online in a flash.
If you are reading this on any other blog than Mobile PC Medics or via my RSS Feed, it is stolen content without credit.
You can find me on Twitter via @NerdHerderr
Come and visit our blog at https://mobile-pc-medics.com/computer-blog