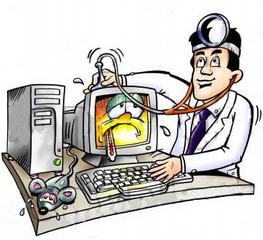 Along with all the marvels that come along with technological innovation, there are a few unfortunate drawbacks. Since people have become so dependent on their computers for work and entertainment, when computer networks malfunction the resulting fallout can be detrimental. For a home office or a small business, having access to quick and efficient mobile computer repair can make all the difference.
Repairs for a fraction of the Downtime
Various things that can go wrong with a computer and the possibilities can sometimes seem limitless. However, there are a few common complaints that a mobile computer repair technician regularly sees and is perfectly equipped to handle. Whether a new network needs to be configured, a laptop needs to be diagnosed, or a virus must be wiped off a hard drive, a mobile IT company can come to the location and fix the problem in a snap.
 Having Access an Expert IT Department without the Cost
Many small businesses try to handle their own IT situations and end up being fairly successful most of the time. It is when an employee runs into issues that cannot be resolved that it is helpful to have an IT connection. For many companies, having designated IT staff is a waste of money, which is why they should consider the benefits of hiring professional IT only when the needs arises. A mobile repair expert can perform the same services offered by a full scale IT office, but without needing to pay for the days when no IT expertise is needed.
Dealing with Computer Disasters When You Least Expect Them
Never again wait for weeks to have your computer fixed or pay an arm and a leg for a simple repair. If you need to have your computer or network repaired affordably and quickly, call a mobile computer repair company to take care of your technical issues. They can provide many of the same services as a stationary repair shop, but at a reasonable price and often within hours of the customer placing the initial call.
If you are reading this on any other blog than Mobile PC Medics or via my RSS Feed, it is stolen content without credit.
You can find me on Twitter via @NerdHerderr
Come and visit our blog at https://mobile-pc-medics.com/computer-blog