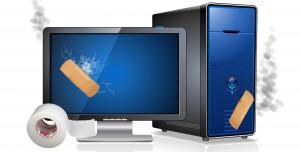 Keeping a computer running in tip top condition can be difficult for anybody. With viruses, spyware, bloatware, identify thieves and more all knocking at your door, you need to be vigilant in taking care of your machine. In addition to malicious threats, there are also many other problems that could occur in everyday computing like hardware or component failure, incompatibility of software, and network connectivity problems. If all of this sounds like more than you would like to deal with, you should consider enlisting the services of a mobile professional for computer repair in Camarillo.
A mobile computer repair technician can address all of your home computing needs with the added convenience of traveling to your home to do the work. This saves you the hassle of dealing with overseas support technicians that are following a script and may not even be able to help you. Having a mobile professional visit your home and work on your computer is a much better solution because they can visually inspect your machine and components to diagnose any problem.
If your computer is running slow, or you are having trouble with your hardware in any way, a mobile computer repair professional can promptly visit your home and find the problem. There are many factors that you must address in maintaining a healthy PC, so even if you feel comfortable with the performance of your machine, it is still worth your time to hire a mobile professional to look at your machine.
For computer repair in Camarillo, you need to find a company that provides fast and effective service for all brands and operating systems. You should choose a company with an established reputation and glowing testimonials, which can give you assurance that they can get the job done right every single time. Whether you have a PC, laptop, tablet, or all of the above, a qualified mobile computer repair service is an excellent choice to keep your machines working great for years to come.
If you are reading this on any blog other than Mobile PC Medics or via my RSS Feed,
it is stolen content without credit.
You can find me on Twitter via @NerdHerderr
Come and visit our blog at http://Mobile-PC-Medics.com/category/computer-blog