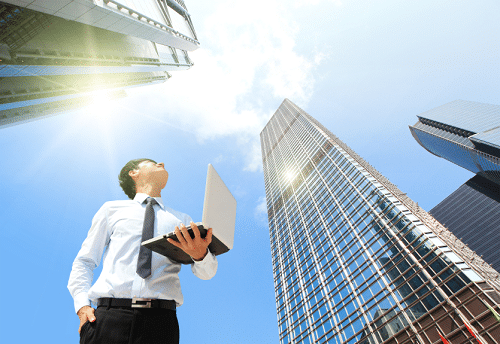 It might be tempting to go to your local box store and choose the cheapest computer to run your business. One of the reasons those computers are so cheap is because they are preloaded with software that your business does not need. Business computers are built with more durability than consumer PCs, and they usually have specialized tech-support for the needs of an office.
Your first consideration for the best computer for your business is to decide if you want a laptop or desktop. Laptops are portable and convenient, but they can be stolen. Their keyboards and screen are generally smaller than a desktop. A good laptop should last about two to five years under normal use.
Desktop computers have a longer life cycle than a laptop. If you are not concerned about mobility, you will get a lot more use from a desktop. You can also add another screen more easily to give you more productivity. However, desktops produce more heat than laptops and takes up more space.
Desktops and laptops have virtually the same technology components. You want at least a dual-core processor for multitasking. If you work with a lot of graphics and video, you will want a quad-core. One (1GB) to 4GB of RAM is plenty, but for growth you can get up to 16 GB. Your business will be okay with integrated graphics unless you need high-powered graphics for design. If you are not downloading videos or storing a lot of music, a hard drive with 160 GB – 500 GB is sufficient to store documents.
You need to consider your software needs for your business when you purchase a new computer. The best computer for you will be determined by your particular needs. If you are syncing devices or working in a virtual office, you should take that into account. Instead of a big box store, the local computer shop has certified professionals who can assess your computer needs and provide personal technical expertise. You know your business. Let someone who understands computers help you find the best computer for you.
If you are reading this on any blog other than Mobile PC Medics or via my RSS Feed,
it is stolen content without credit.
You can find me on Twitter via @NerdHerderr
Come and visit our blog at http://Mobile-PC-Medics.com/category/computer-blog