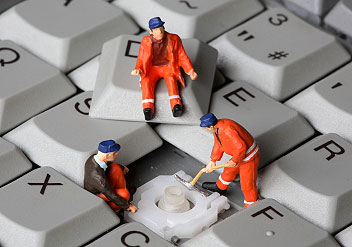 Your home computer means many things to you — it is your window to the world, whether you use it for shopping, connecting with friends and family, business, recreation or all of the above. When your computer is out of commission, you are missing a large part of your life. Keep your computer in tip top shape by hiring mobile computer repair in Simi Valley for all of your IT needs.
From hardware repair and upgrades to virus removal and network connectivity, a mobile PC repair expert can troubleshoot and address your problem from the comfort of your own home.
If you are looking to replace a failed hardware component or upgrade your current specs, mobile computer repair in Simi Valley is the best way to go about it. By traveling to your home and being able to physically inspect every aspect of your home computer setup, a mobile professional can help you determine exactly what you need for your purposes. Because they are able to get an up close look at your equipment, mobile repair professionals are able to troubleshoot every aspect of your home network, making sure that everything is operating as intended.
Another great service provided by firms that offer mobile computer repair in Simi Valley is remote computer repair. By using a remote access connection, a mobile PC repair professional can log on to your machine without even having to travel to your house. For problems like bloatware, viruses, and software troubleshooting, remote access is an easy and convenient way for a technician to diagnose your machine before they even travel to your house. With this service, many problems can be taken care of quickly and easily. Keep in mind that remote access is only useful for tasks like software and virus removal. For hardware repairs and more comprehensive troubleshooting, it may be necessary for a mobile professional to visit your house to solve your problems.
You do not have to drive across town through traffic to get top notch computer repair service. Call a mobile PC repair firm to fix your machine while you relax on the couch.
If you are reading this on any blog other than Mobile PC Medics or via my RSS Feed,
it is stolen content without credit.
You can find me on Twitter via @NerdHerderr
Come and visit our blog at http://Mobile-PC-Medics.com/category/computer-blog