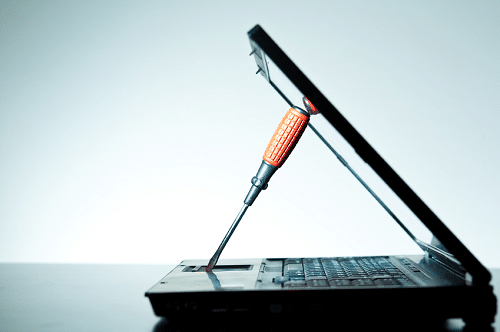 Computer problems are never fun. This is especially true when it is your personal laptop that is giving you trouble. However, if you ever find yourself in this situation, there is no need to worry. Mobile laptop repair services can get your computer up and running in no time.
Laptop problems are relatively common. Because of their small size, laptops cannot hold the same parts as a PC. They are typically made with limited hardware specs, especially in the less pricey laptop models, and all mobile computers feature a more vulnerable operating system. Many laptop problems are caused by faulty software or computer viruses. If you cannot fix the problem on your own, mobile laptop repair is a necessity.
The major benefit of mobile repair services is the speed at which your laptop will be fixed. As opposed to some of the big name companies that require weeks to get the problem taken care of, most mobile repair services will get it fixed on site. If your laptop requires new parts, mobile services will also have those brought in within only a few days, ensuring that your computer is fixed as fast as possible.
Another benefit of these on-site mobile repairs is that they make an excellent learning experience. Because the repair technician comes to you to fix the computer, you can observe the whole process. By seeing how the technician fixes the problem, you can learn how to avoid the problem in the future and maybe even pick up a thing or two on how to fix it if it ever happens again.
Security is another great bonus to mobile repairs. Many people worry about what happens to their computer and personal files when the laptop is away from them and in the hands of a repair shop. People do not want their private files in the hands of a stranger. With mobile repairs, however, you are never away from your computer.
For the most convenient way to fix your computer, mobile laptop repair is definitely an option to consider. No other service will get it done right and done faster.
If you are reading this on any blog other than Mobile PC Medics or via my RSS Feed,
it is stolen content without credit.
You can find me on Twitter via @NerdHerderr
Come and visit our blog at http://Mobile-PC-Medics.com/category/computer-blog