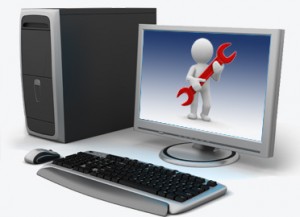 Home computers are at risk in many ways. They are used to access sensitive information when you shop or conduct banking. If you have kids downloading games or videos from the Internet, there are many possibilities that spyware and other malicious programs are also tagging along. Computers that are accessed by multiple users and which are in use all day may be in danger of simple wear and tear. Typically, these problems are addressed at computer repair shops. Today, however, a more expedient option is available; mobile home computer repair can provide the assistance you need at your convenience.
The skilled technicians who provide computer repair at your home are able to complete diagnostics, provide repairs and upgrades, and even configure or network your computers and accessories. When you have computer issues and questions that are beyond your scope of experience, call the mobile repair technicians. If they cannot work through the problem with you over the phone, you can probably expect them to arrive the same day to get your up and running again.
Computer hackers are working harder than ever to gain access to your sensitive information or just to wreak havoc on as many victims as possible. For this reason, it is vital that you have serious protection against viruses, malware, and other intrusions. The technicians providing mobile home computer repair services will help you plan the best steps to take to secure your computer.
Have you ever been frustrated at the amount of wires and cords running through your home? Ask your mobile computer repair technician to set your system up as a wired or wireless network. Enjoy the convenience of sending documents and photos quickly between the home computer and any of your other devices.
Not too long ago, when a computer hard drive crashed, it meant the loss of all the information saved upon that drive. Now, however, your pictures, emails, documents, and other data can be retrieved. Rather than risking permanent loss, call your preferred mobile computer repair company for prompt service.
The services of mobile home computer repair technicians are available for your convenience, protecting your computer and your family in many ways.
If you are reading this on any other blog than Mobile PC Medics or via my RSS Feed, it is stolen content without credit.
You can find me on Twitter via @NerdHerderr
Come and visit our blog at https://mobile-pc-medics.com/computer-blog