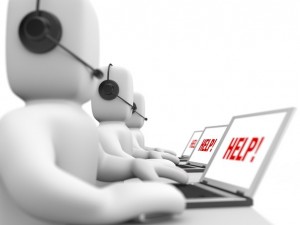 Most people have experienced the need for technical support at some point. Computers can act unpredictably at times, and tech support may be the only thing that can help you fix the problem. For some businesses, getting over-the-phone tech support is useful, but has its own challenges. Connections can be fickle, especially if you are on a mobile line. It can sometimes be difficult to decipher what your technician is telling you to do. If you do not handle it over the phone, where can you go for support? Try calling a mobile repair shop.
One of the disadvantages to calling a tech support line may be that the technician might not be able to see your computer or fully understand the issue you are facing. Some companies do have the ability to connect remotely to your computer and fix it that way, but this might not work if part of your issue is that your computer will not start up in the first place. When you just want a technician to look at your computer in person, you need to make sure that happens.
Mobile technical support should be able to help you with whatever sort of problems you are facing. Whether it is viruses, error messages, program setup, or backing up data, a technician should be able to come to your home or place of business and give you the support you need. This allows you to interact face-to-face with the technician, ask any of your questions, and hopefully get clear answers that are not garbled over a phone line.
Getting the technical support that you need should not be as complicated as the computer issue you are trying to resolve. When you are in desperate need of tech support and do not want the frustration of trying to fix it with help over the phone, try setting up an appointment with a mobile computer service. The technician can come to your place and hopefully give you the kind of help you need.
If you are reading this on any other blog than Mobile PC Medics or via my RSS Feed, it is stolen content without credit.
You can find me on Twitter via @NerdHerderr
Come and visit our blog at https://mobile-pc-medics.com/computer-blog